In today's highly saturated market, real estate businesses need CRM software to help differentiate from the competition. With the best CRM software for real estate, agents can respond to customer queries in a timely manner. The faster you respond to prospective clients' queries, the more likely you retain them.
You can use CRM software to respond to any criticism or feedback from existing clients. These days CRM software is equipped with cloud functionalities so that you can work from anywhere.
Additionally, you won't have to stress about missing out on someone whose busy schedule conflicts with yours. You may build up personalized automatic answers using a CRM to reassure your prospects and clients that you have heard their message and will respond quickly.
Table Of Contents
Why Do Real Estate Businesses Need CRM Software?
A CRM is vital in storing information to build a stronger customer base, and store leads information that can be converted given the proper sales conversion strategies.
It extends continuity which is essential to the real estate business. What makes a real estate service boom is word of mouth and referral marketing.
An advanced CRM Software gives in-depth insights into where leads are generated. There are a lot of funnels from which it can come from, such as websites, blog content, and even Youtube, Tiktok, and Open Houses.
Not all leads are equal. Realtors try to help each client, but some fish are bigger to fry. It's best to qualify your leads before nurturing them. Specifically, go through all the contacts that inquired about your database. Single out those who are genuinely interested in transacting.
This does not mean that other prospects can't become viable business opportunities. It actually implies that you know who should get more substantial scores. There is the ease of allocating your marketing spend and efforts.
So, undoubtedly, every real estate business needs a CRM to better manage their leads & relationships with prospects.
Here are some of the best CRM software for Real-Estate businesses:
Best CRM Software For Real Estate Businesses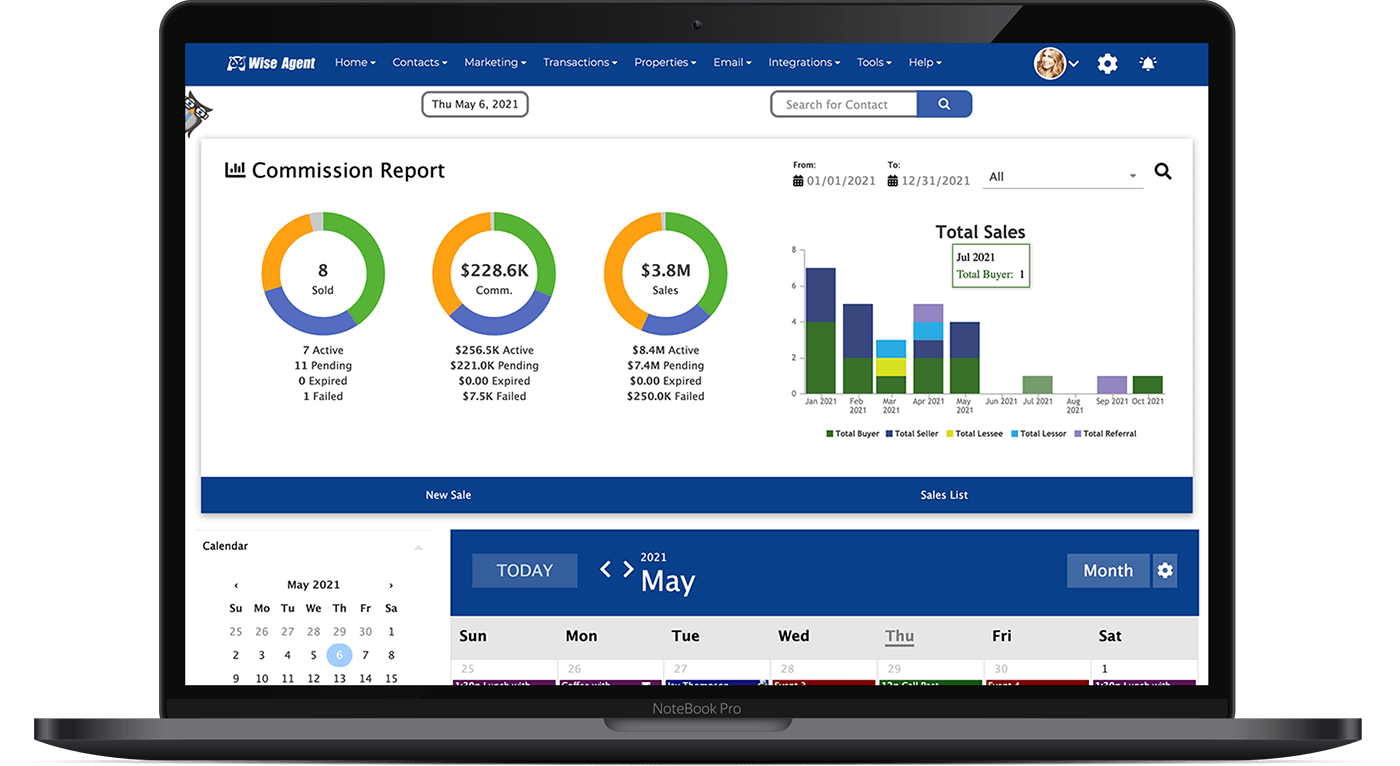 The real estate sector is the target market for Wise Agent Falls. The CRM comprises several integrated tools for marketing, scheduling, contact and transaction management, and limitless in-software document storage. It can often be difficult to obtain "mouth-dropping customer assistance, supplied by real people that genuinely care" in software products, yet Wise Agent also makes this claim.
The contact management tools in Wise Agent are straightforward to use. All correspondences are time and date stamped for archival purposes. The recently updated mobile web application allows agents to handle leads and sync their contacts with Google while on the move.
This system offers robust marketing automation functions in addition to essential contact management. Use Wise Agents' interfaces with MailChimp and ConstantContact to choose from hundreds of templates to quickly produce content, post to Facebook feeds, and distribute.
Wise Agent's personalized, shareable task lists and appointments, call lists that sync with contact notes, and pre-scheduled email notifications will help you stay organized.
Cloud-based Wise Agent is billed on a monthly subscription basis. However, they do provide a risk-free 30-day trial. Wise Agent is easy to use, uncomplicated, and reasonably priced, yet it may not have all the sophisticated features offered by more expensive programs.
Article Recommendation: How small Businesses Help The Economy
Follow Up Boss is a popular CRM tool in the real estate industry. While other options have progressed faster, Follow Up Boss still offers excellent features that make it the best choice. All messaging features are directly integrated within the software, including email, texting, and calls.
The features combined with the hundreds of integration options make it customizable for even beginners. It may be difficult to work the tool if you don't have strong tech capabilities.
Follow Up Boss is a good option for anyone with tech capabilities. This helps to set up integrations and make customizations individually.
One of the greatest free CRMs for real estate is HubSpot CRM, without a doubt. Customizable email templates, call monitoring, and sales automation are just a few of the features included with HubSpot.
Using it in conjunction with email marketing tools can help you get in touch with more people. With this, it can schedule follow-ups, track emails via the email analytics tool, and automate follow-ups.
Users of HubSpot CRM can also benefit from the Marketing, CMS, and Service Hubs because they are all part of the Sales Hub. Each contact, sales pipeline, field, template, and much more can be modified in the CRM for realtors.
If you upgrade your subscription, HubSpot, too, provides a private communication channel, similar to Salesmate's. For example, they can use the CRM system to develop a personalized live chat section for their clientele.
Realtors and real estate businesses can also use Google calendar integration to set reminders or plan meetings.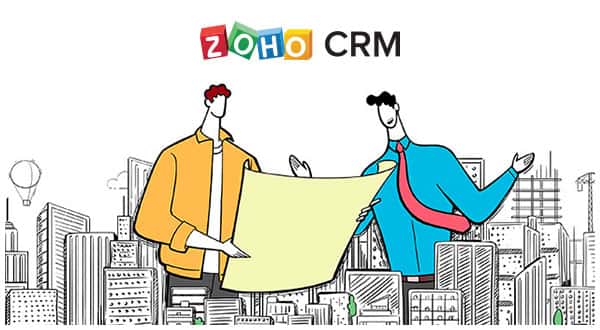 What's best about Zoho CRM is how straightforward it is and an all-around solution from contact to pipeline management. It has efficient workflow automation, lead generation tools, and reporting which is very much essential in our kind of work.
It can also easily be integrated with other Zoho apps such as invoicing, which makes invoicing clients easier given all its free features.
ZOHO CRM segregated leads given the fact that not all leads are equal. This application allows you to focus on the more important leads, and all that can be converted easily. This way you are able to know which are the better scores, and which among those you can allocate your marketing expenses.
Using Pipedrive CRM, commercial real estate brokers can stay on top of their client relationships. The platform simplifies the reporting process by providing more information to your organization.
Examples include information on present clients, their financial situation, or conversion rates. Monitoring and managing every single listing, on top of all the other things you have to do, could be a bit much.
In the real estate industry, Pipedrive makes it easy for agencies to divide their sales funnels, nurture, and keep customers engaged. Email templates that may be customized make it easier to automate follow-ups. You could do something like this for the anniversary of your tenant's move-in: Send them a personalized email.
In addition to providing a mobile app for both iOS and Android, the commercial real estate CRM delivers a mobile app. That way, you won't miss any potential customers!
Insightly is arguably the most effective customer relationship management system (CRM) for real estate enterprises. Because it is based on extremely versatile customization possibilities, Insightly's CRM is perhaps better thought of as a tool for building a CRM rather than a CRM itself. These make it possible for you to construct your own tools and dashboards without requiring you to undertake any complex coding.
To put it another way, it may not provide a real estate CRM that is already built, but it does give you the ability to construct your own. You are even able to develop specialized tools for each of the various real estate teams.
It produces individualized data sets as well as relationship trees. In addition to instantly scanning and uploading information from business cards, it also creates a bespoke dashboard for your sales representatives.
Conclusion
CRM software helps businesses stay in touch with their high-value clients. After sealing the deal, you shouldn't forget about clients and be more proactive in your interactions with them. Using a CRM never lets you lose track of your clients, as it maintains all contacts in a database.
This goes the same for the real estate business as you have to interact with many clients every day. The system can even send your client automated personal messages on special occasions. These individual touches tend to go a long way. You can actually increase the chances of a future sale or a referral.
Latest posts by Mohaiminul Sharif
(see all)